✍ All in English 4Pcs Magic Practice Copybook Set: If you want your children to learn English Calligraphy, Number, Drawing, Math,
A reusable magic practice copybook set is a must-have.
MAGICAL REUSABLE FUNCTION
✍ The Writing Board Tracing Book will automatically fade and can be reused. Handwriting automatically disappear after dry, great for repeatedly practice. If you want to learn calligraphy, this Magic Handwriting Book is a must have.
COMFORTABLE WRITING AND STANDARD WRITING FORMAT
✍ Standard English Writing Format: Our magic calligraphy book has a three-dimensional groove design and standard English writing format. The cute soft pen holder allows you to hold a comfortable pen for a long time. High-quality paper, strong and durable, comfortable.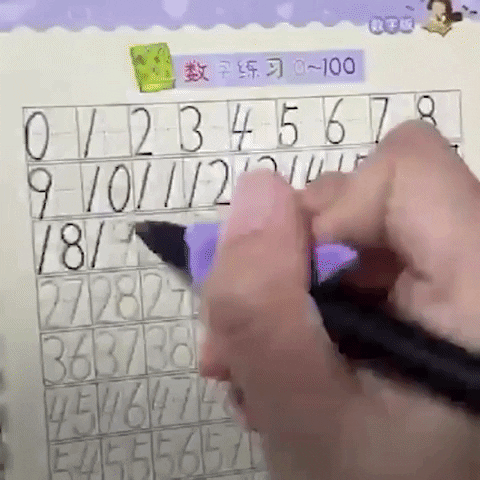 MAIN MATERIAL
✍ Paper of the highest quality. The paper is thick and difficult to smudge. Excellent for Calligraphy Letter Writing. A reusable magic copybook set is an absolute must. This is an excellent gift for children.
GET BEAUTIFUL HANDWRITING
✍ During these activities, kids will use their pencil to follow paths and draw different shapes, so they build their fine motor skills. That will engage their minds and boost their reading and writing comprehension skills, help children to practice different font of handwriting and build their own style.
ESTABLISH OWN STYLE
✍ The Magic Practice Copybook can help children or adults practice different handwriting fonts and establish their own style.



GREAT GIFT FOR KIDS
✍ Our Reusable Calligraphy Book is made of high-quality thick paper, with double-sided printing design and loose-leaf fixing method, easy to copy and not easy to fall off.
Package include Alphabet – Number – Math – Drawing book and 1 pen+10 refills. This Magic Calligraphy Copybook Set is perfect gift for kids ages 3-10 years
PACKAGE INCLUDE
English Calligraphy book

Number Calligraphy book

Drawing book

Math book

1 Magic Pen

5 + 5 free Refills of Pen (Total 10 free Refills)

Pen Holder
MAGIC PRACTICE COPYBOOK

Material: White cardboard

Style: Alphabet; Numbers; Drawing; Addition & Subtraction

Size: 19.5cm x 13.5cm
MAGIC PEN SET

Writing Width: 0.5mm

Color: Black
LIMITED QUANTITY – WILL SELL OUT FAST!!! HURRY UP
DAILY ESSENTIAL GUARANTEE
We at Daily Essential are out on hunt for some of the most unique products in the world – and we are backing it up for a risk-free 15-day guarantee.
If you don't have a delightful shopping experience, we will make it right for you so that you're 100% satisfied.